August 19th, 2008
books, travels
Posted in Webmiss | 5 Comments »
I recently started reading PetShopGirlsReviews.com(out link). I was a little unsure at first if I would like it or not. Lately it's felt like woman with humour and a strong character who do reviews use their intelligence to bring other people down. That kind of humour really makes me uncomfortable. I know it can be funny in a way, but I just don't like it when people making fun of others. Attack their websites if you wish, but don't take the mickey of the person. You've never met them after all. But I'm glad to be proved wrong. And that was the case with Rhiannon
.
She visited my site not too long ago and left a really nice comment. I'm not too sure how someone would find out about Paused Life other than through Subeta, my affiliates or Teahouse MB. I think that one of my affies had asked to be reviewed. But you know how it is with short term memory loss, you can never entirely trust what you remember. lol
So that's how I got hooked basically. I've since subscribed to her feed and I receive the updates via my email client Thunderbird. Her site has a lot more than just reviews too if those aren't up your street. I'm still "exploring" the PSGR world.
This is something I picked up a couple of days ago but hadn't posted yet. I had such a hard time choosing, I can tell ya that!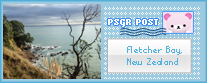 For about 9 years now, I've had this life goal to visit Canada, Australia and New Zealand. The idea so far is to visit Quebec and an old school friend in Ontario whilst in Canada. Then I'd visit some relatives in Australia and perhaps make a trip to Alice Springs too.
It was after reading Red Sand, Blue Sky by Cathy Applegate that I added Alice Springs to my list. I've read that book so many times. I love it. So I'd like to see through my own eyes the places where the story was set.
And then I'd continue on to New Zealand. There is no where in particular I would like to visit, anywhere would already be great! So that part has yet to be planned.
Is there somewhere in the world that has long been on your "Before I Die" to-do list?
Any reasons why that place in particular? Perhaps because it's exotic, personal attachments, saw a photo in a National Geographic…
---